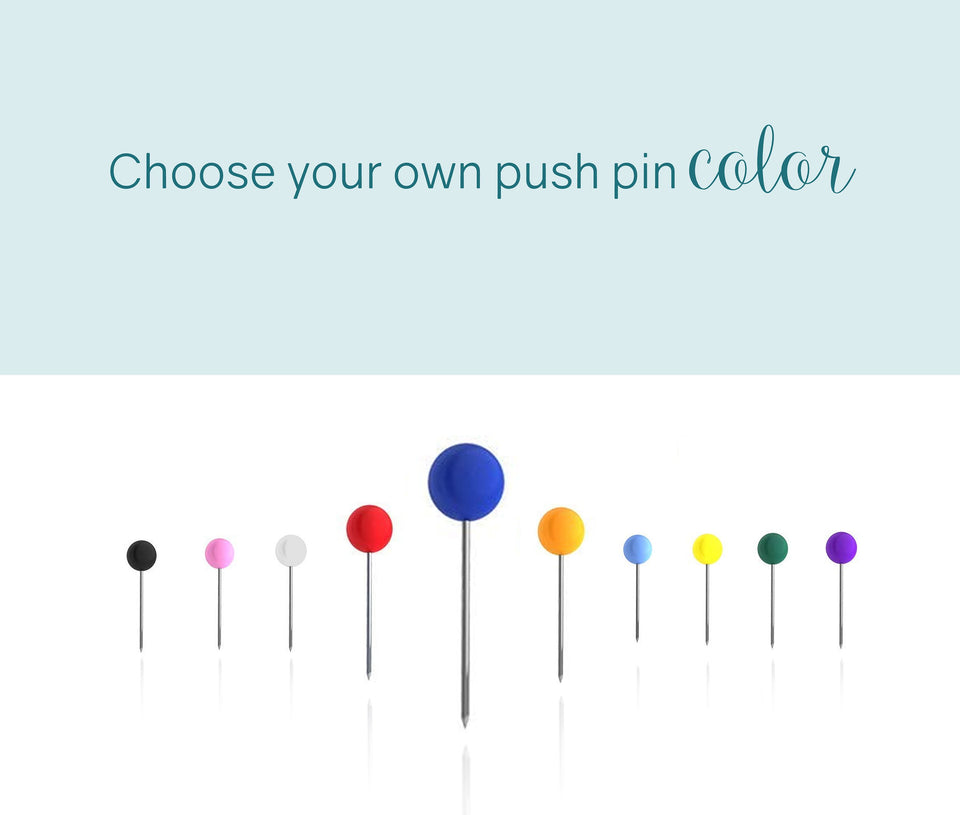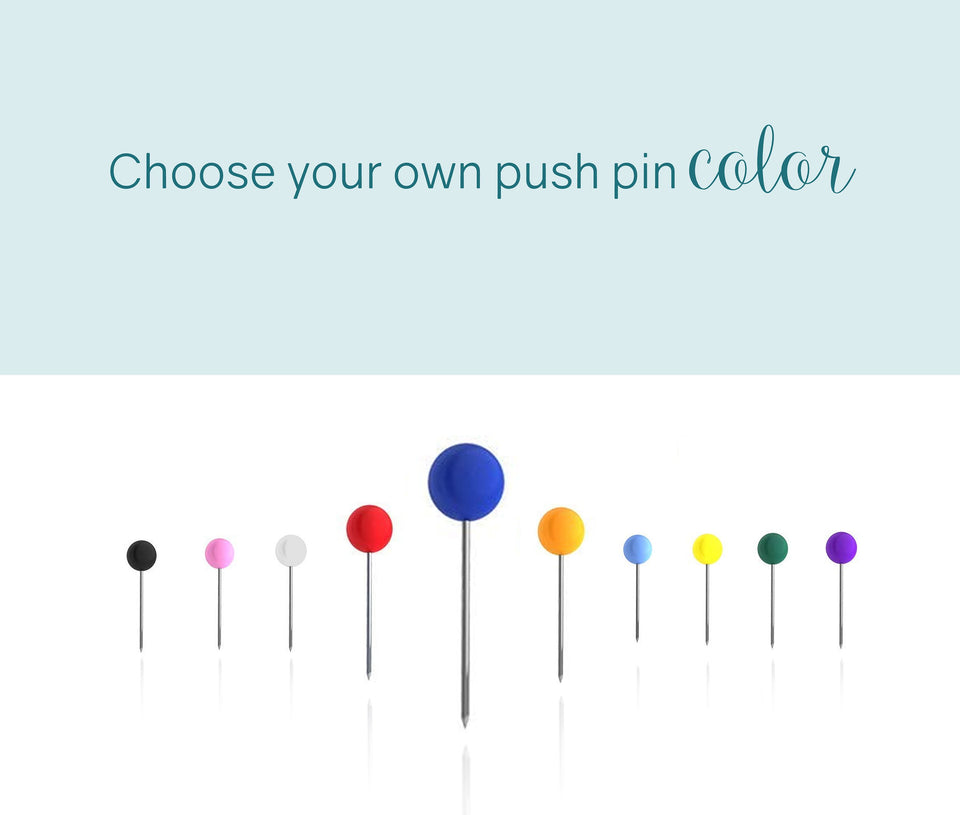 Push Pin Travel Map - Greens and Yellow
Details
For our world travelers, adventurers, thrill seekers, spontaneous spirits and wanderlusters, a push pin travel map is the perfect testament to your life of adventure! Every time you make it back from a far off trip, put a pin in it! You can showcase your travels to anyone that comes over for game night or drinks and talk about all the amazing vacations abroad you've had! This particular push pin travel map comes with a rustic off white backdrop with greens and yellows filled into all the continents of the world! This lush earthy toned map will really spruce up whatever room you decide to display this in! Imagine how amazing this will look above your mantle, above the couch, in your home office, bedroom, or anywhere else! You can also personalize this with your names and an anniversary date if you wish, as well as a heart felt message! Perfect as a just because purchase, an anniversary present, birthday gift, wedding gift, or for any other occasion!
This push pin world travel map is part of our Push Pin Travel Maps Collection. and makes for a great gift for her or gift for him.
Are you a world traveler or do you know somebody who is? Are you a free spirit who loves to roam around, meet new people, go on exciting and wild adventures and learn about new cultures and languages? If so, then you know the joys of travelling the world. The only thing missing is a great way to keep track of all your world travels. You need a push pin world travel map.
That's where we come in.
Here at Canvas Vows, our push pin world travel map makes for a wonderful keepsake for the world wanderer, or the family who loves to vacation with each other all over the world! No matter where your adventures take you, your world push pin travel map will be there waiting for you at home to mark your latest experience. This way, you can keep track of all the places you've been and plan out your future trips!
Not only does this push pin world travel map make for a great way to organize your world adventures, but it is also a beautiful piece of home decor. What's more — you can personalize this gorgeous item of canvas wall art with a quote or with your choice of color! For all your world adventures, a world push pin travel map is the way to go.
DETAILS
Colors: You can personalize this design with any color you would like. 
Quote: You can add a short quote to your design.

NOTE: Please write these details in the order notes during checkout. 


OPTIONS

• Canvas Print
You will receive a fully wrapped canvas. The canvas is ready to hang straight out of the box. 

----------------------------------------------------

HOW TO ORDER

1. Choose your size in the drop down menu. 
2. Once your size is chosen you can place the order by clicking "Add to cart"
3. Provide the custom details for your order:
• There is a note section on the checkout page. You may provide the custom details in a note there. Please also let us know what pin color you would like. The options are shown in the last image. 
• The second option for providing personalization details is through email. After your order is placed you can email us at support@canvasvows.com. Please also include your order number. 

4. You will receive a proof of your design so you can make desired changes and approve the final design before it ships. 

----------------------------------------------------

HANGING YOUR ARTWORK

• Matte print will need to be framed or mounted once you receive it in order for it to hang on the wall.
• Our canvases come ready to hang straight out of the box. 

-----------------------------------------------------

QUALITY

• Our desire is for you to absolutely love your artwork. That is why we put an emphasis on craftsmanship. Our matte prints are professional grade print paper and our canvases are hand stretched onto a thick wooden frame.

-----------------------------------------------------

CUSTOMER CARE AND SUPPORT

• We understand the importance of having questions answered quickly and thoroughly. We do our best to have your questions answered with a 24 hour time frame. (Please note that we do not work on the weekends. If you reach out over the weekend, you will be answered first thing Monday morning) 

-----------------------------------------------------
PROCESSING AND SHIPPING
Please see our current processing and shipping times here.

Please visit some of my other work:
https://www.CanvasVows.com
https://www.instagram.com/canvasvows