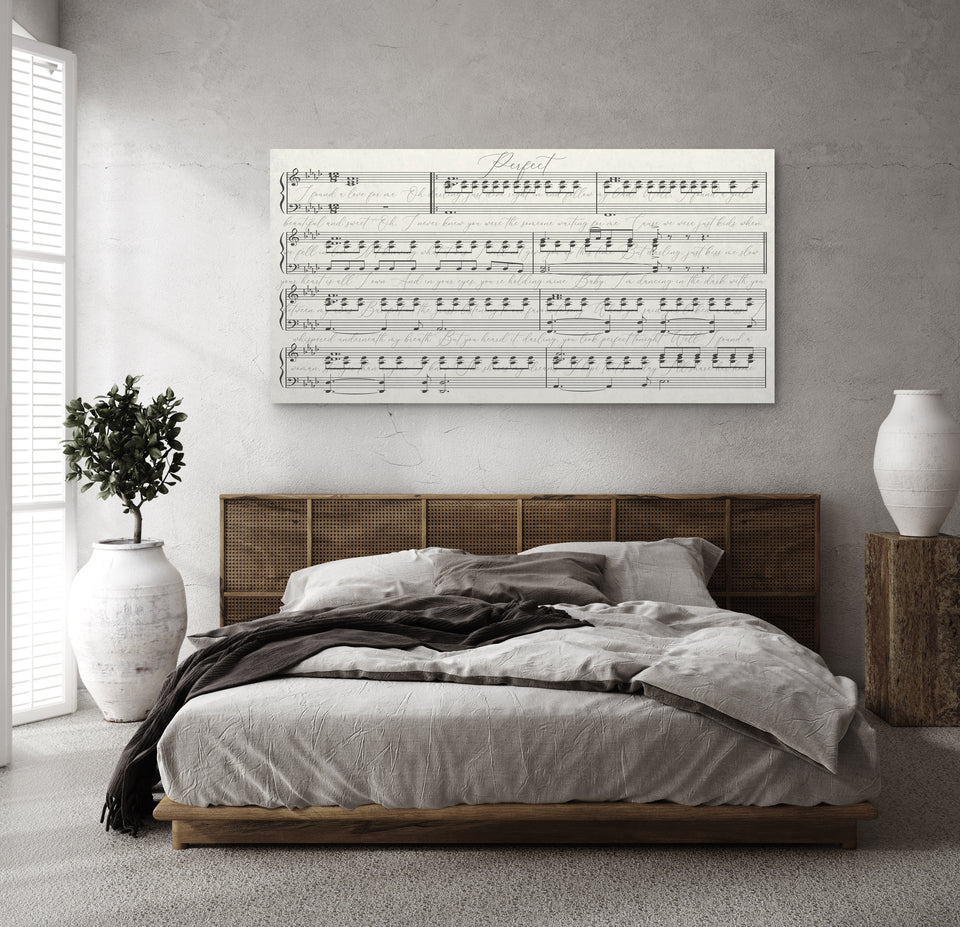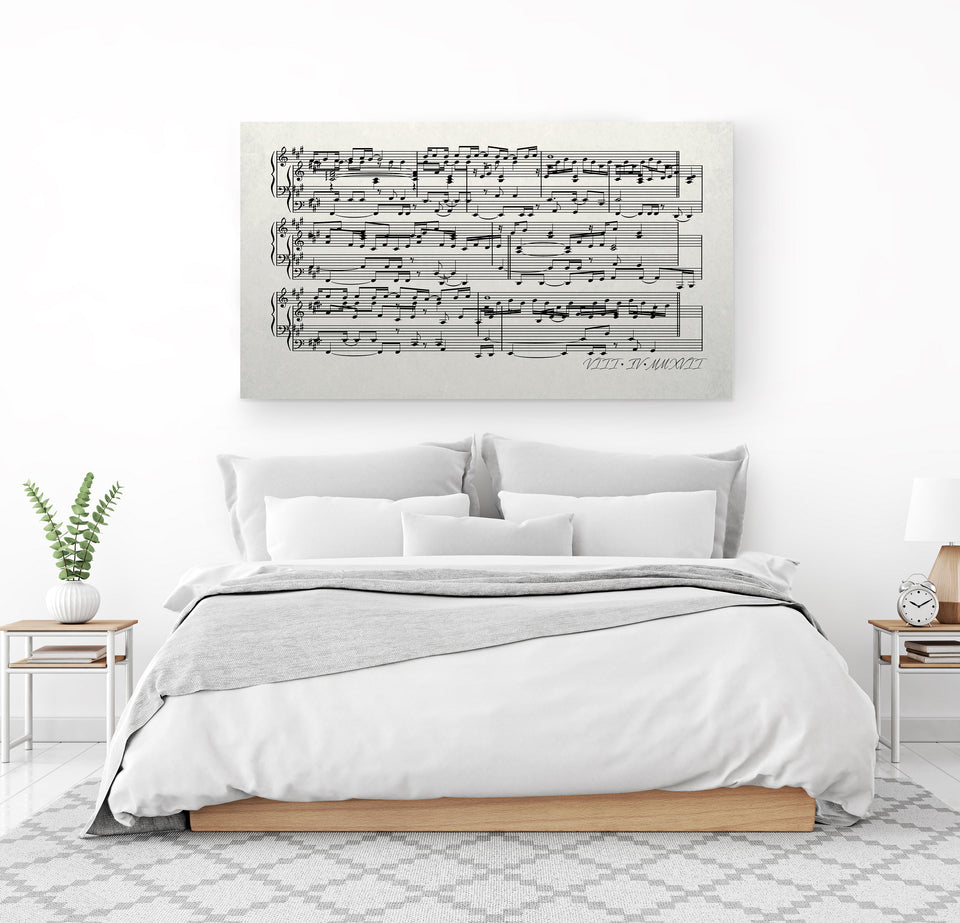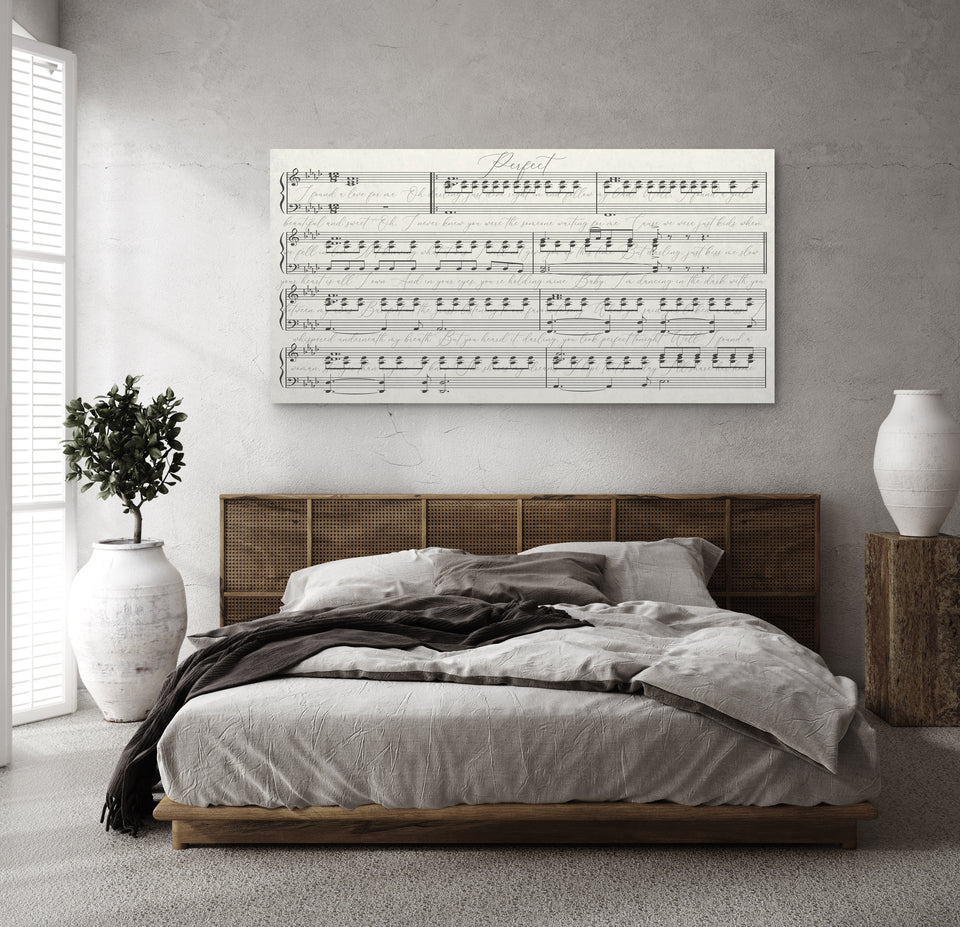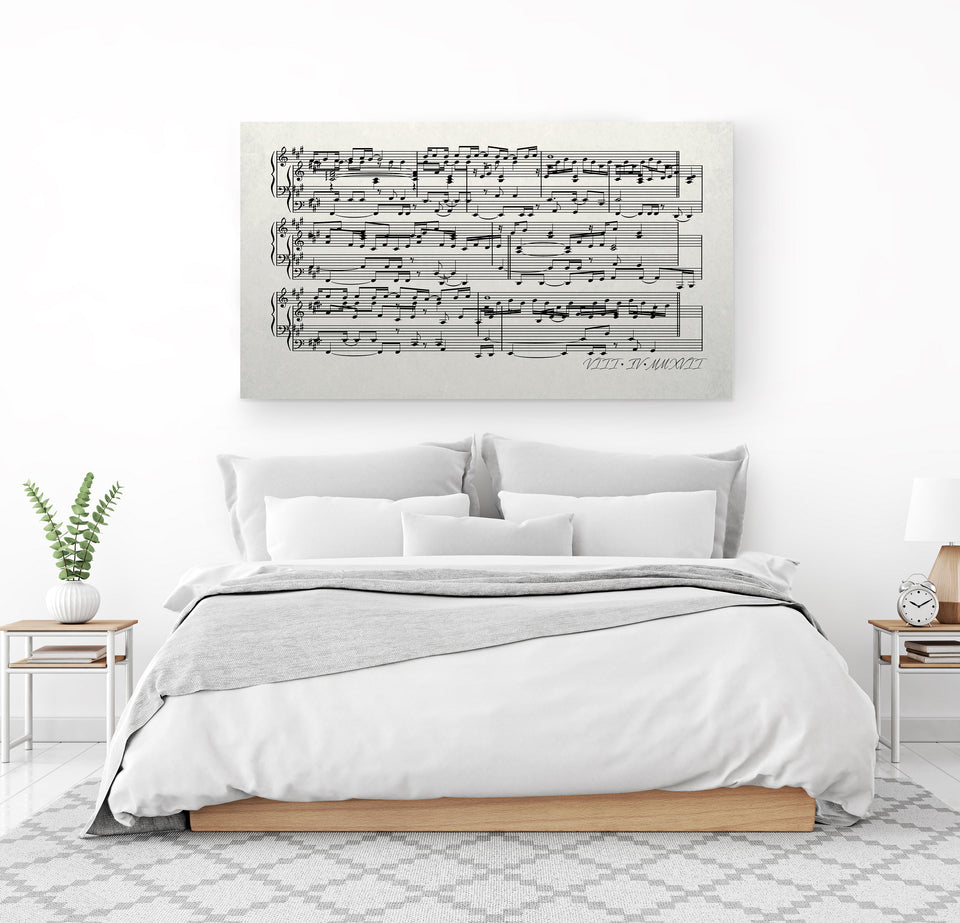 First Dance Lyrics On Canvas - Custom Made With Your Wedding Song
Details
First Dance Lyrics On Canvas
Capture the memory of your first dance as a married couple with custom first dance lyrics on canvas. This one of a kind canvas comes from our Sheet Music Art on Canvas Collection. Using the sheet music from your first dance wedding song (see some ideas here), Canvas Vows will create a stunning piece of art that is ready to hang and display in your home. Wherever you display a first dance lyrics print, you will create a one-of-a-kind focal point in your home that will remind you of that special day.
Create a Piece of Art for Any Significant Song
While putting your first dance lyrics on canvas is a way to commemorate that memorable dance at your wedding, Canvas Vows can make a beautiful work of art for any piece of sheet music you love. Whether you're celebrating your wedding dance, your special song or a piece of music that has significance to you for another reason, simply send us the sheet music and lyrics, and we will create a personalized piece of art for your home.
Add Meaning to Your Home's Decor
Anyone can hang a picture of music or song lyrics in his or her home. Only with custom wedding lyrics on canvas can you make that decor personalized. With the help of Canvas Vows, your home's decor becomes valuable and sentimental, special to your home and your family's story. What's more, because only the highest-quality materials and water-based, solvent-free inks are used, your custom canvas will display beautifully for a lifetime.
Are you ready? Here's how you can order your wedding song lyrics on canvas. 
Instructions
Step 1: Choose your canvas size from the drop down menu. 
Step 2: Choose your Design Style. You can choose a sheet music design with the lyrics or without the lyrics. For either option, we can make it in any color you would like. 
Step 3: Choose how many you would like to order.
Step 4: Place the order by pressing "Add To Cart"
Step 5: Check out by going to your cart
Step 6: Once the order is placed, you will receive a thank you email from Support@CanvasVows.com.  You may let us know of any additional customization you would like by sending an email to Support@CanvasVows.com or by replying to your thank you email.  
Processing & Shipping Time
Please see our current processing and shipping times here.
What is included in your purchase?
1) A design using sheet music from any song you choose. (please note, we are only able to make designs for songs that have available sheet music) 
2) Your design is printed onto a canvas at the size you select.
Canvas Materials
Only high end materials and strict quality controls are used in each and every canvas print.
Canvases are safe for the whole family as only HP Latex inks are used. These inks are water based, solvent-free and odorless.
Ready to hang: All canvases come with the needed hardware in order to hang it anywhere in the home.
Canvas thickness: Standard .75″ wood frame (1.5″ also available)