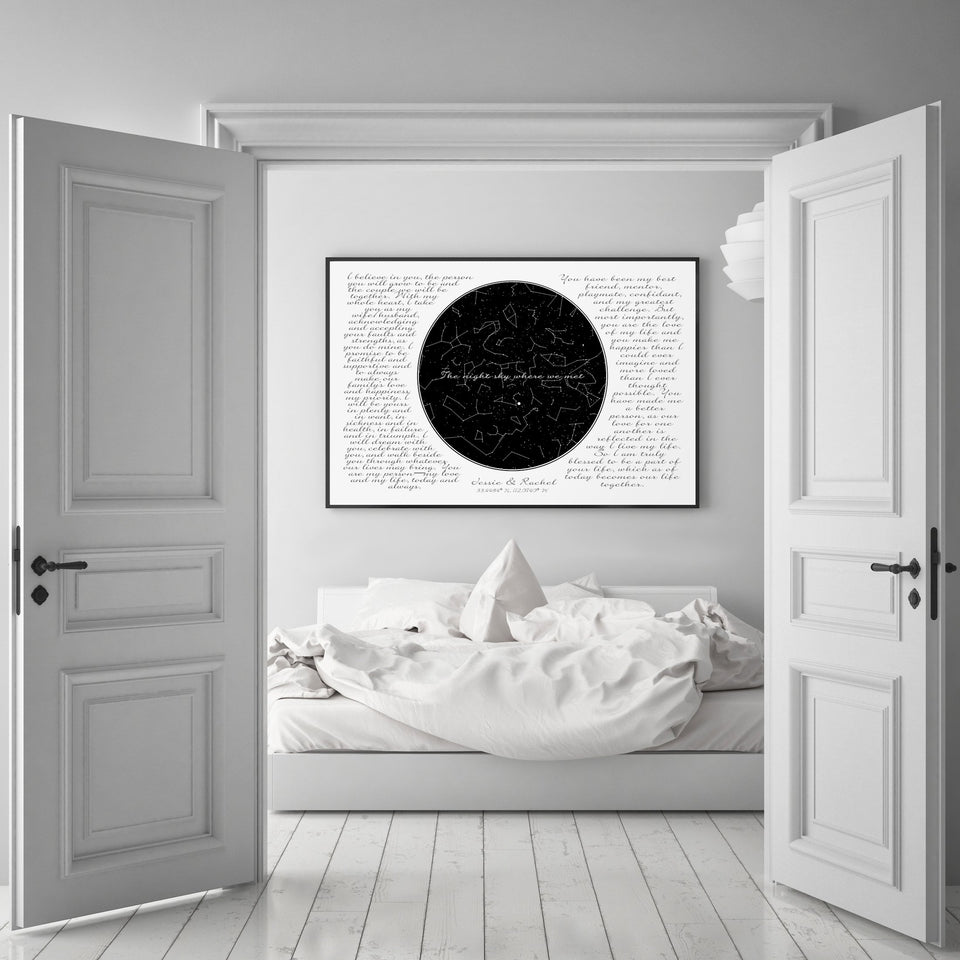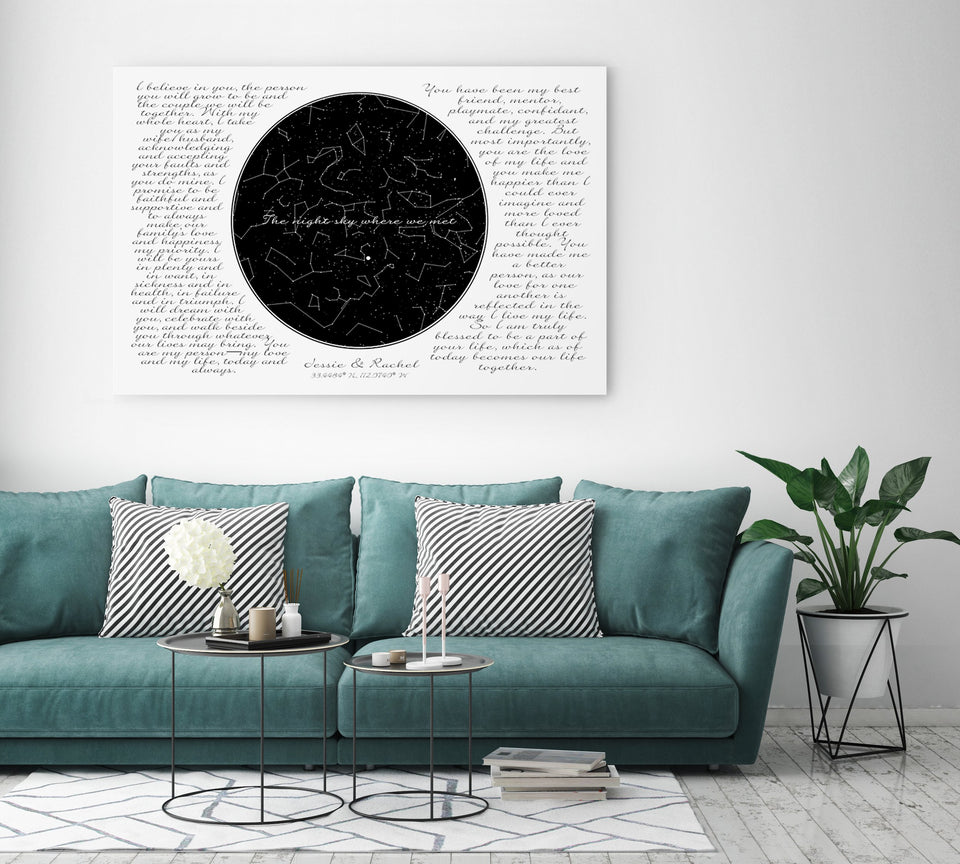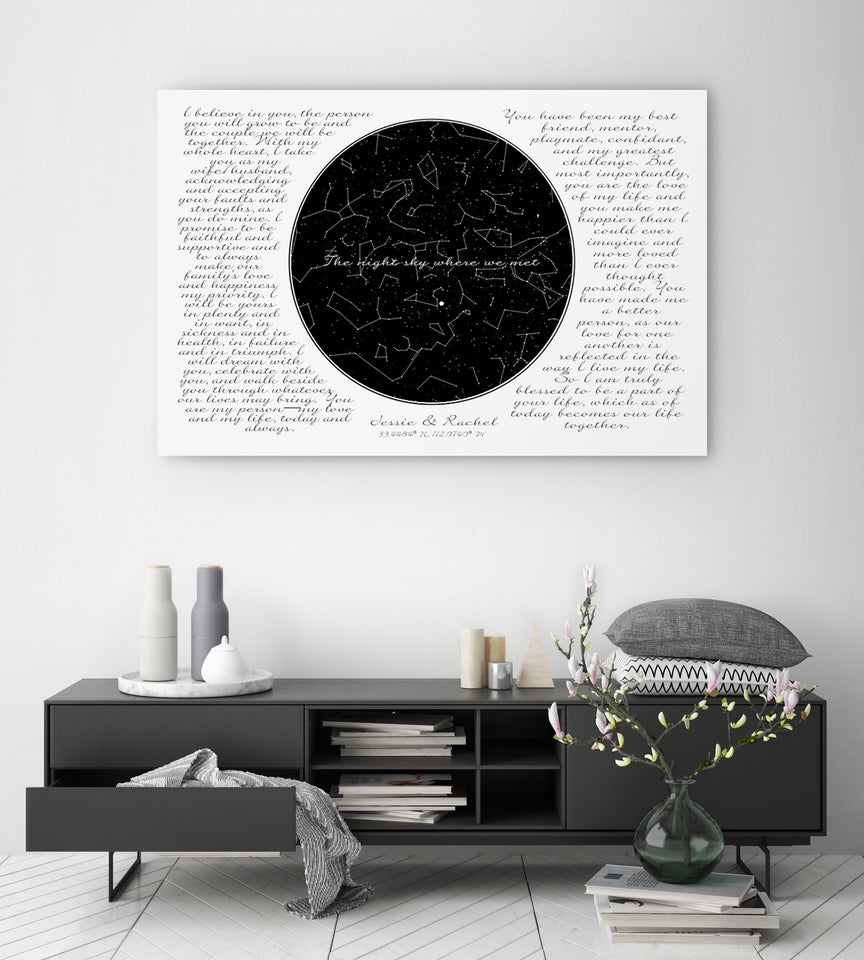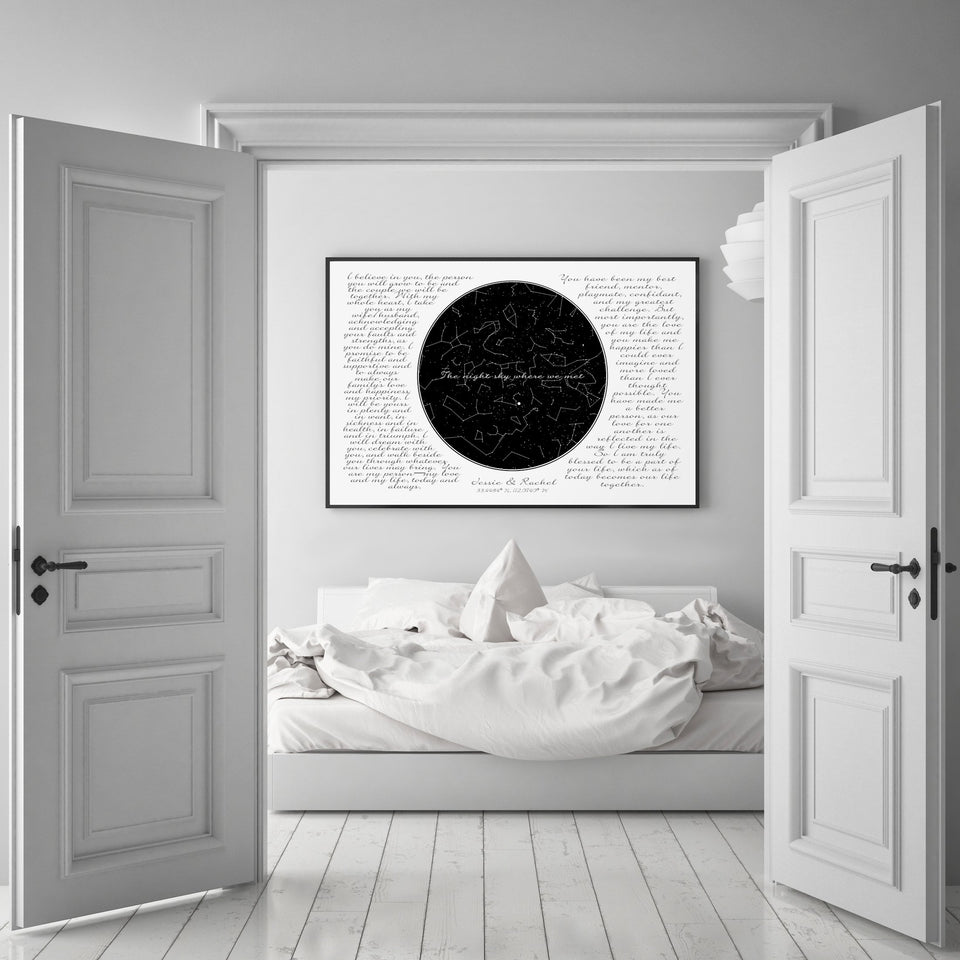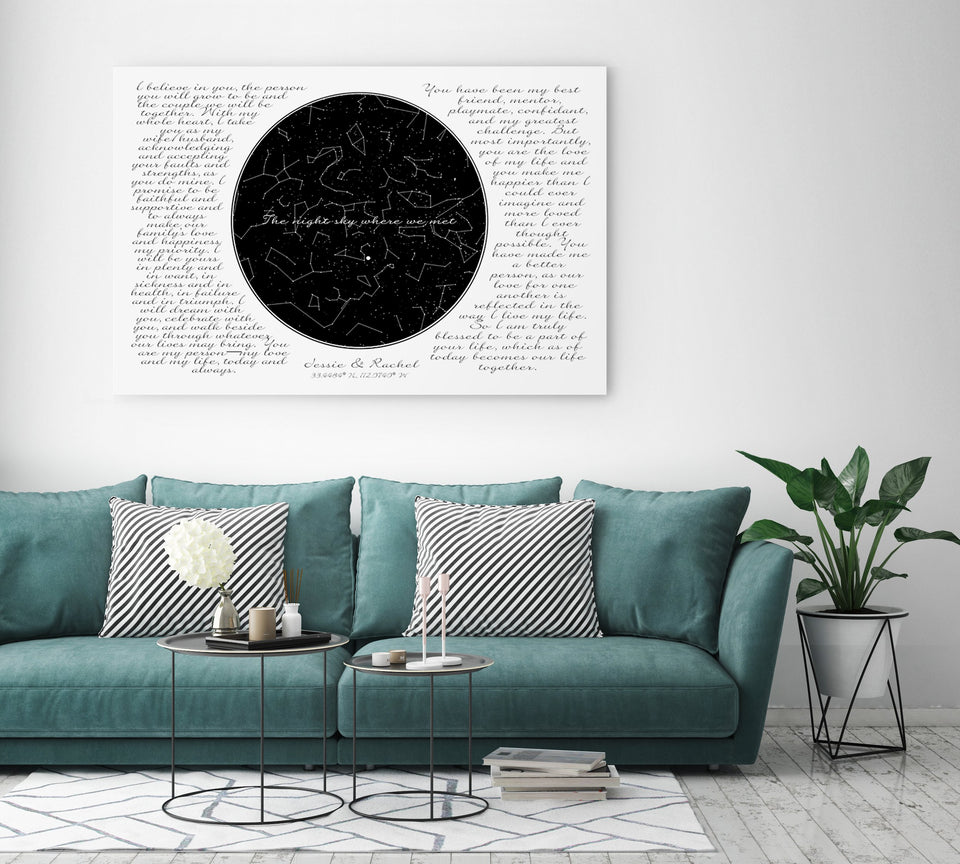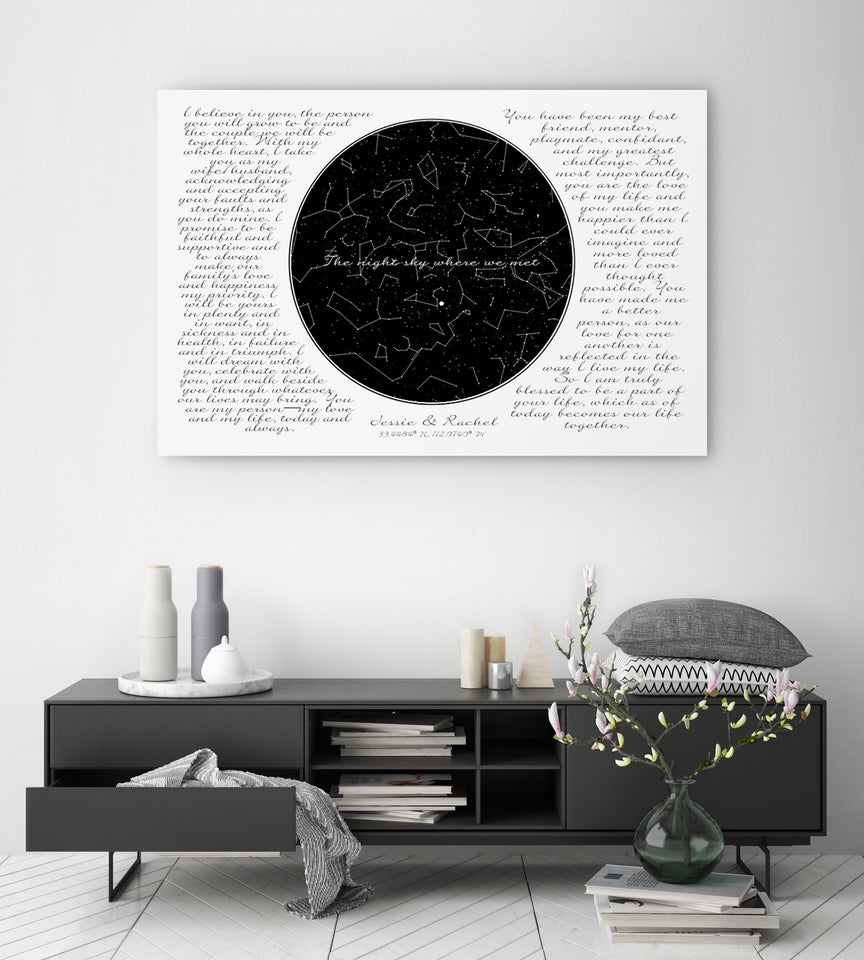 Details
This night sky by date and location print is part of our Custom Star Map Collection as well as our Word Art Canvases Collection. You can create a meaningful custom star map by using the GPS coordinates of a special location and the date of the particular night. We can use your coordinates to recreate the night sky on a specific date.
The wonderful thing about this star map of a certain date is that you can customize it specifically to you. For instance, you send us the date, time and coordinates/location, as well as any meaningful words you would like printed on the canvas, and we will return to you a custom made canvas print created for you!
Is there a special night that is significant to you and your spouse? Perhaps your wedding night, the night he proposed or just a really memorable date? There are a lot of important moments throughout our lives, and especially throughout our shared life with our partner. The night sky custom star map allows you to recreate the memory of a particularly important moment to keep with you forever.
In addition to printing the night sky on specific date on a canvas, you can add meaningful words that speak to you and your spouse. Some popular options for words on the night sky custom map are your wedding vows, the lyrics from your first dance song or from another meaningful song to you and your partner, or even a poem written from your spouse to you.
This star map canvas print is a wonderful gift that you will love, no doubt.
DETAILS
Words: You can use your wedding vows, your first dance song from your wedding, another meaningful song or any other words you would like. 
Location: This design is made with the night sky on the specific date and exact location of your choosing. You can tell us the coordinates or give us an address and we can find out the coordinates for you. 
Date: Please let us know what the date is of your meaningful location. The night sky map will look exactly as the night sky did in that location on that specific night! 
Additional details: We can also write in additional details if you would like the date, address or other details written on the design. 

NOTE: Please write these details in the order notes during checkout. 


OPTIONS

• Matte Print 
You can choose a matte print size. If you choose one of these sizes, your design will be printed on professional grade matte paper. It does not include a frame. There are hundreds of different frame styles, colors and sizes. We leave framing up to the professional framing stores. 

• Canvas Print
If you choose a canvas size you will receive a fully wrapped canvas. The canvas is ready to hang straight out of the box. 

----------------------------------------------------

HOW TO ORDER

1. Choose your size in the drop down menu. 
2. Once your size is chosen you can place the order by clicking "Add to cart"
3. Provide the custom details for your order:
• There is a note section on the checkout page. You may provide the custom details in a note there. 
• The second option for providing personalization details is through email. After your order is placed you can email us at support@canvasvows.com. Please also include your order number. 

4. You will receive a proof of your design so you can make desired changes and approve the final design before it ships. 

----------------------------------------------------

HANGING YOUR ARTWORK

• Matte print will need to be framed or mounted once you receive it in order for it to hang on the wall.
• Our canvases come ready to hang straight out of the box. 

-----------------------------------------------------

QUALITY

• Our desire is for you to absolutely love your artwork. That is why we put an emphasis on craftsmanship. Our matte prints are professional grade print paper and our canvases are hand stretched onto a thick wooden frame.

-----------------------------------------------------

CUSTOMER CARE AND SUPPORT

• We understand the importance of having questions answered quickly and thoroughly. We do our best to have your questions answered with a 24 hour time frame. (Please note that we do not work on the weekends. If you reach out over the weekend, you will be answered first thing Monday morning) 

-----------------------------------------------------
PROCESSING AND SHIPPING
Please see our current processing and shipping times here.

Please visit some of my other work:
https://www.CanvasVows.com
https://www.instagram.com/canvasvows