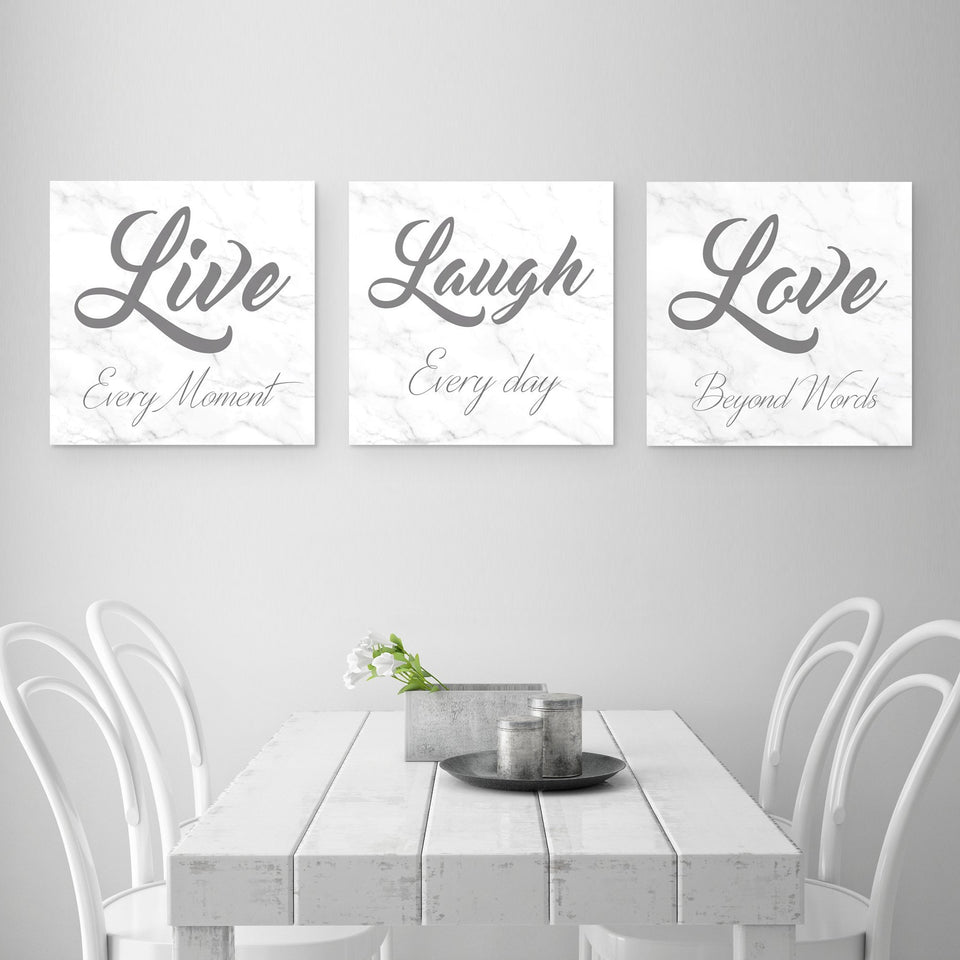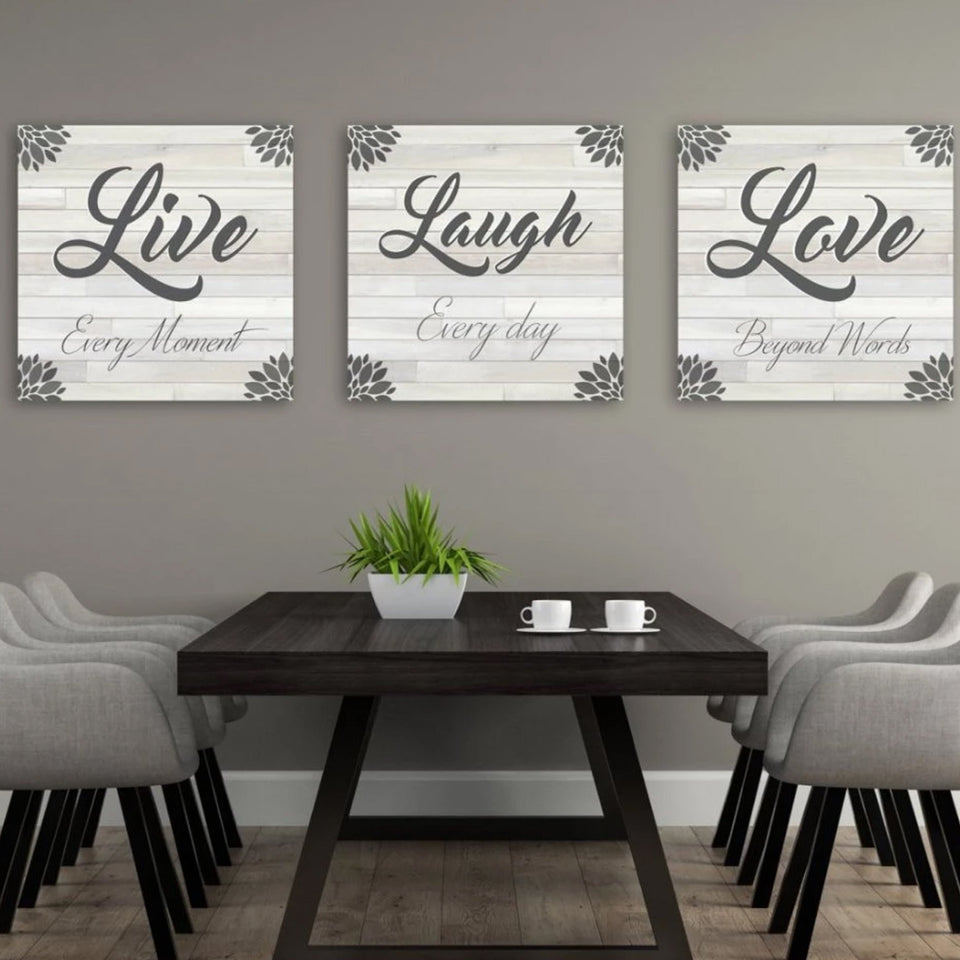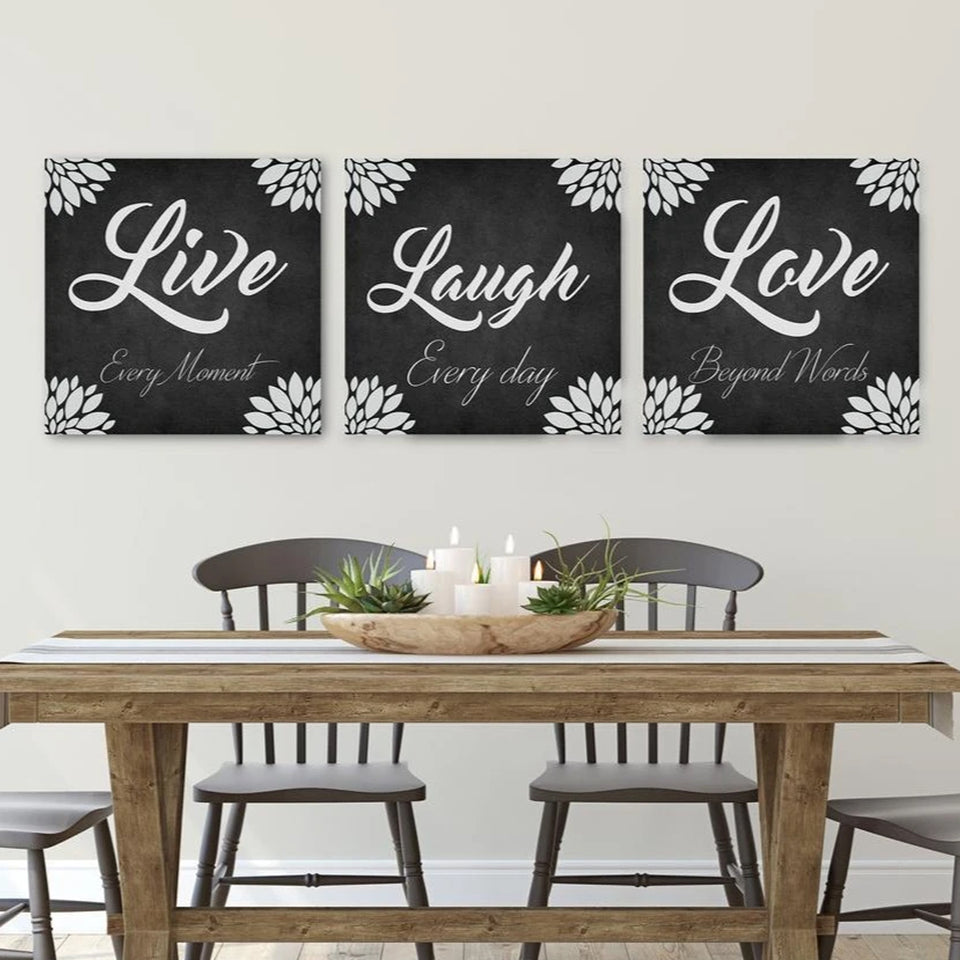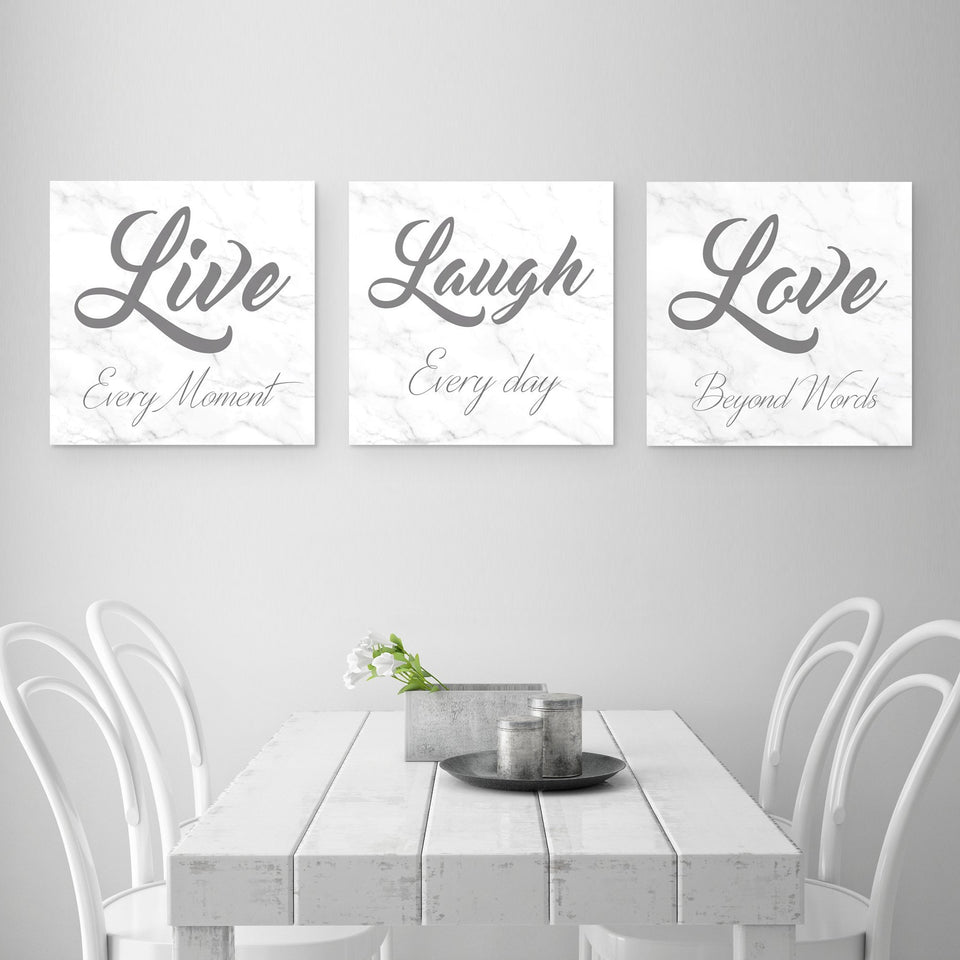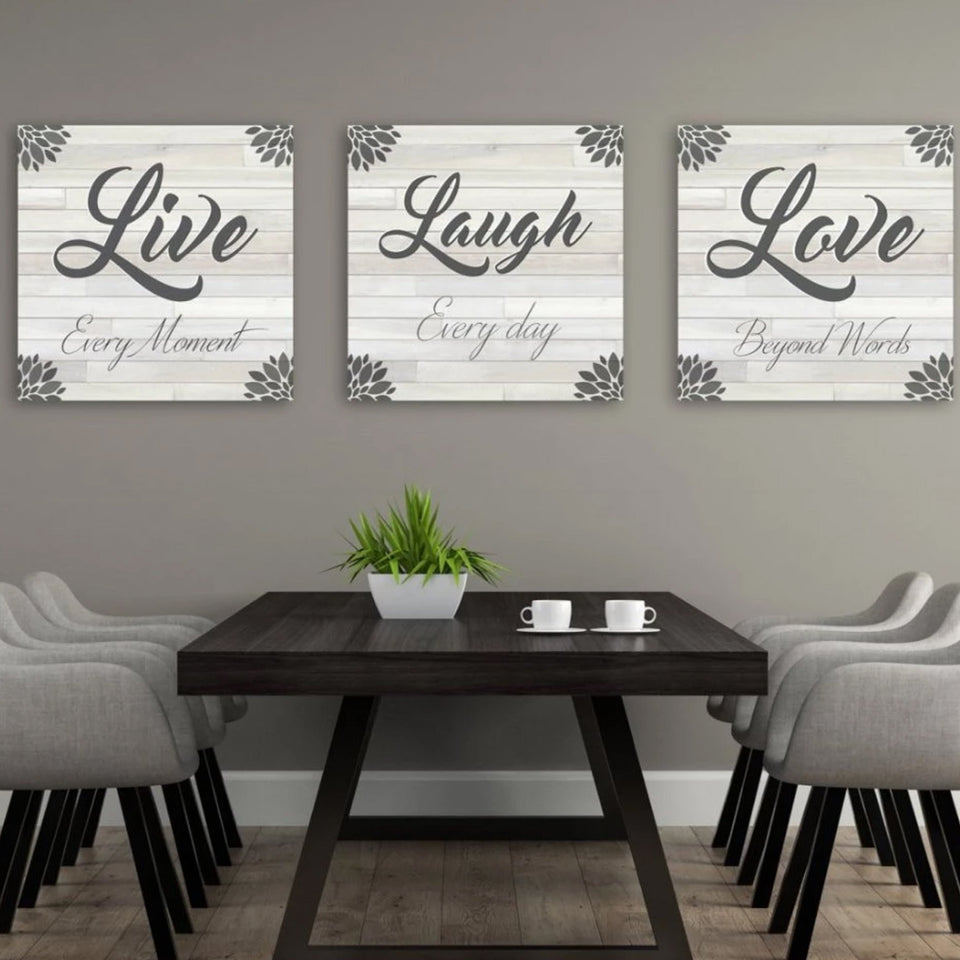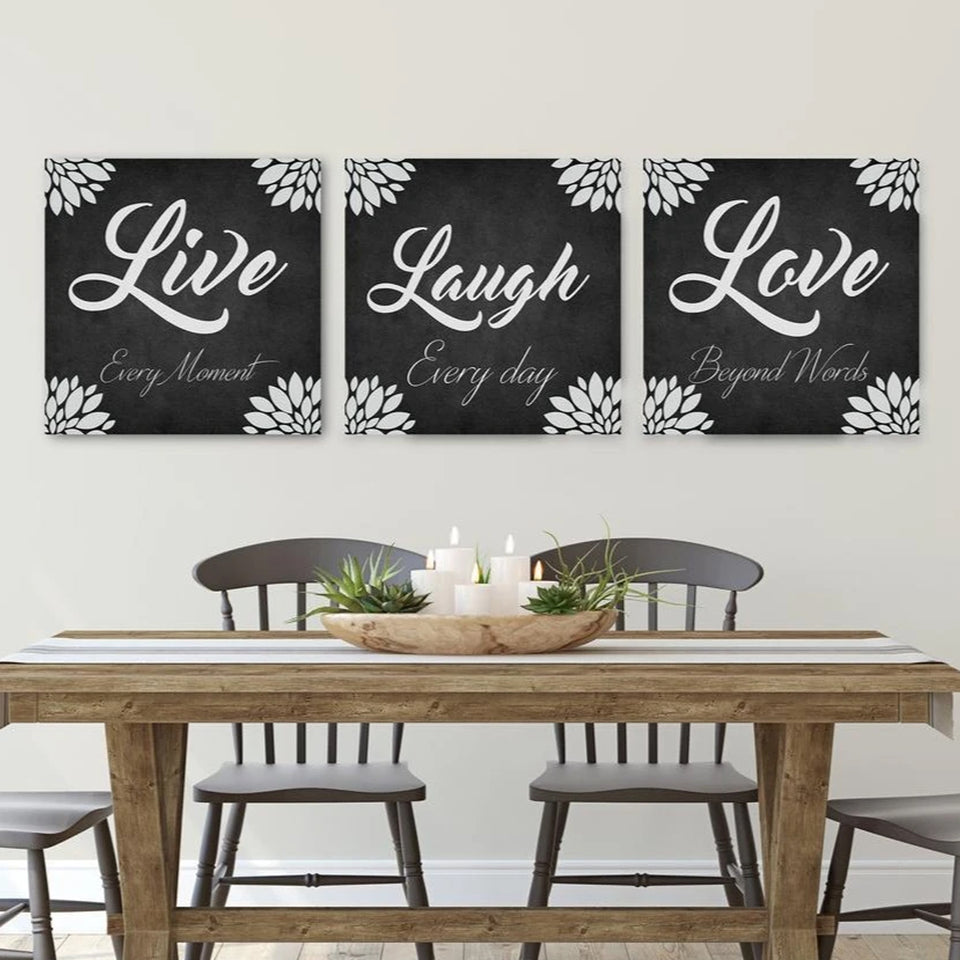 Live Laugh Love Wall Decor
Details
Live Laugh Love Wall Decor
This Live Laugh Love wall decor is part of our Home Decor Canvas Collection, as well as our New Home Decor Canvas Collection. With this live laugh and love wall decor piece, you can add some love and character to your home decor!
The wonderful thing about this live laugh love quotes wall decor is that it expresses a sentiment that can be very personal to you and your family. Its wood appearance on flower corner design make it really stand out as a unique piece of home decor. In addition, its triptych style, or set of 3 canvases, make it the perfect size to fit over a large kitchen table or couch!
But, what comes to mind when you think about the phrase, "Live, Laugh, Love?"
Live Laugh Love 3 piece wall decor is a wonderful way to welcome guests and family members alike to your home! These 3 simple words and their presence in your home has the potential to create a change in an individual's mindset.
When you think about it, what is the alternative? To not live, laugh, and love? Life is too short to do anything but live, laugh and love. After all, you only live once, laughing makes it bearable, and love makes it worthwhile.
Live Laugh Love Voucher Code
You can enjoy 10% off your new home decor with this discount code: OLKDLE. Use this code during checkout to get 10% off your purchase.
Instructions for Ordering
Step 1: Choose your size from the menu.
Step 2: Choose how many you would like to order.
Step 3: Place the order by pressing "Add To Cart"
Step 4: Check out by going to your 
cart
Step 5: Once the order is placed, you will receive a thank you email from Support@CanvasVows.com.  
Size Options
We have two types of print options: Matte Paper or Canvas
Matte Paper: This option comes printed on a professional matte paper. This is a great option if you would like to frame your prints in a traditional looking frame.
Canvas: This option comes printed on a thick canvas material that is gallery wrapped around wooden stretcher bars. These come ready to hang straight out of the box. 
Processing & Shipping Time
Please see our current processing and shipping times
here
.
What is included in your purchase?
When you order relax, soak, unwind wall art, you receive a three-piece canvas set printed onto either professional print paper or canvas at the chosen size. 
Benefits of Our Canvas Materials at Canvas Vows
Top quality: Only high-end materials and strict quality controls are used in each and every print and canvas we provide.
Safe materials: Our canvases are safe for the whole family as only HP Latex inks are used. These inks are water-based, solvent-free and odorless.
Ready to hang: All of our canvases come with the needed hardware in order to be hung anywhere in the home.
Canvas thickness: Each piece comes with a standard .75″ wood frame (1.5″ is an available upgrade).