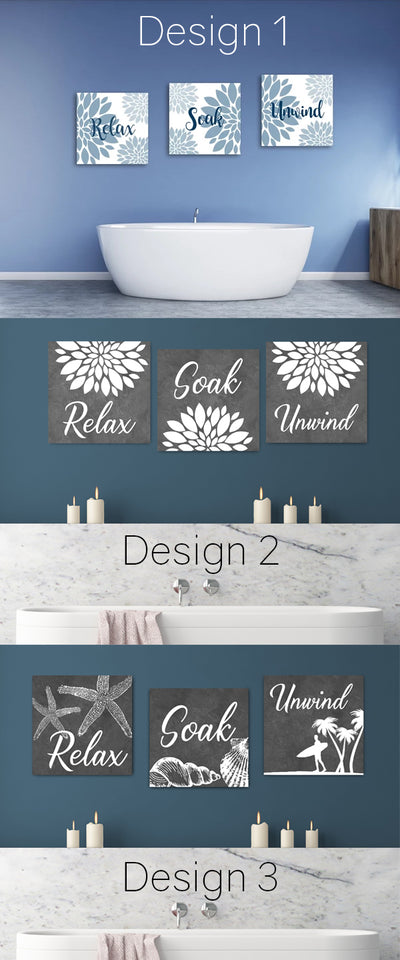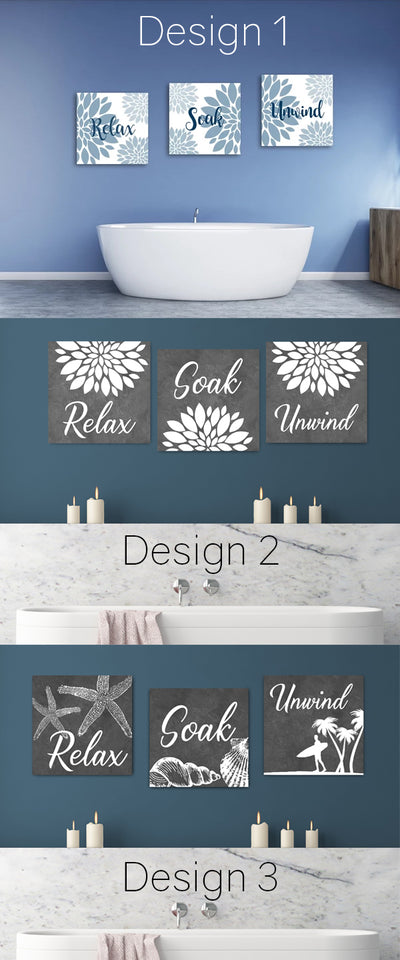 Relax Soak And Unwind Wall Art
Details
Relax Soak And Unwind Home Decor
This Relax Soak and Unwind canvas print is part of our
Bathroom Decor Collection
 and our
Home Decor Canvases Collection
. Dress up your bathroom with relax, soak, unwind wall art! Displaying a message of comfort and luxury, this charming home decor helps turn any bathroom into a spa-like space. Hang this three-piece wall art set above the soaking tub or on any open wall to add a personalized touch and style to your bathroom's design.
Available in both print and canvas styles, this artwork comes in a variety of sizes, so you can go as small or large as fits your bathroom. Plus, each canvas can be made in a custom color of your choice, so it fits your space. Just write your color request in the order notes, and we'll send you a preview before it's printed and shipped.
Hanging a Relax, Soak, Unwind Canvas Set in the Bathroom
Everybody understands the appeal of having a spa-like retreat in their bathroom at home. From a large soaking tub to a walk-in shower, the elements of your bathroom all combine to create a sense of tranquil ambiance. Yet one other key element in luxury bathrooms is the decorating.
Through carefully chosen artwork such as our relax, soak, unwind canvas set, you can communicate the overall ambiance you desire.
Instructions for Ordering
Step 1: Choose your size from the menu.
Step 2: Choose how many you would like to order.
Step 3: Place the order by pressing "Add To Cart"
Step 4: Check out by going to your 
cart
Step 5: Once in the cart, let us know which design you would like (design 1, 2 or 3). There is a note box in the cart where you can write which design you want. 
Step 6: Once the order is placed, you will receive a thank you email from Support@CanvasVows.com.  
Processing & Shipping Time
Please see our current processing and shipping times
here
.
What is included in your purchase?
When you order relax, soak, unwind wall art, you receive a three-piece canvas set printed onto either professional print paper or canvas at the chosen size. 
Benefits of Our Canvas Materials at Canvas Vows
Top quality: Only high-end materials and strict quality controls are used in each and every print and canvas we provide.
Safe materials: Our canvases are safe for the whole family as only HP Latex inks are used. These inks are water-based, solvent-free and odorless.
Ready to hang: All of our canvases come with the needed hardware in order to be hung anywhere in the home.
Canvas thickness: Each piece comes with a standard .75″ wood frame (1.5″ is an available upgrade).