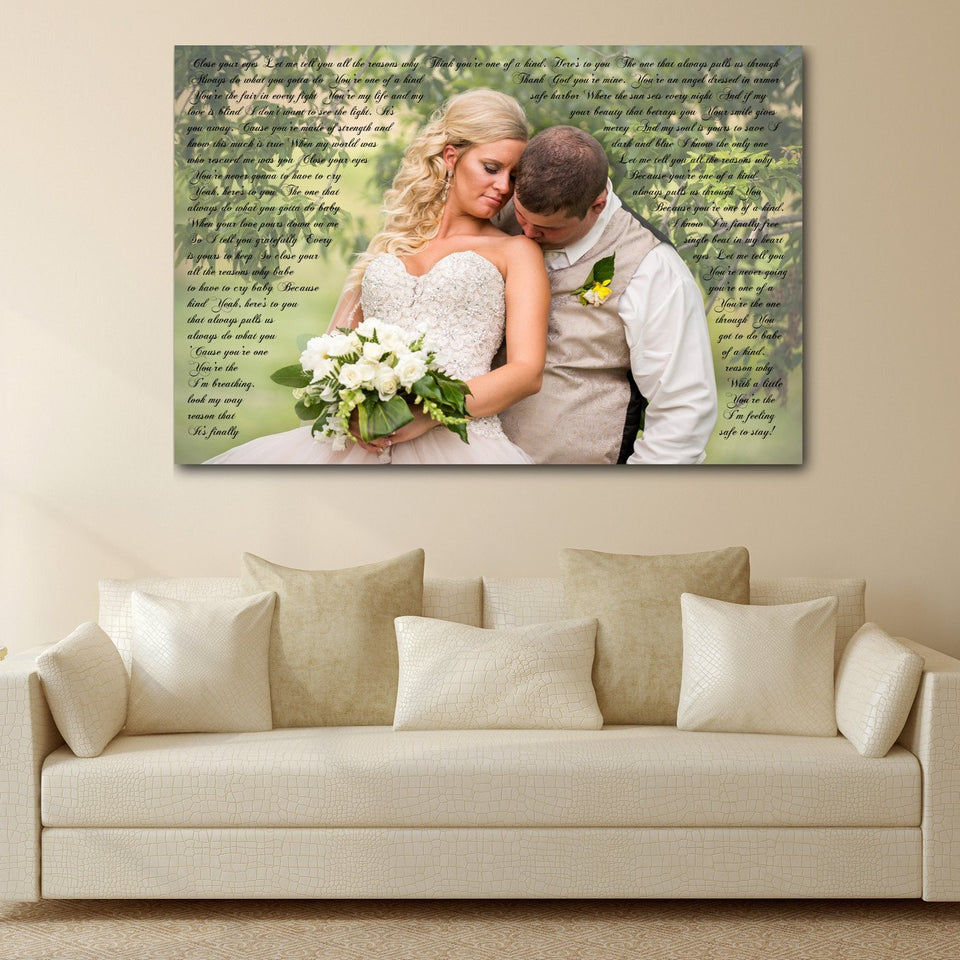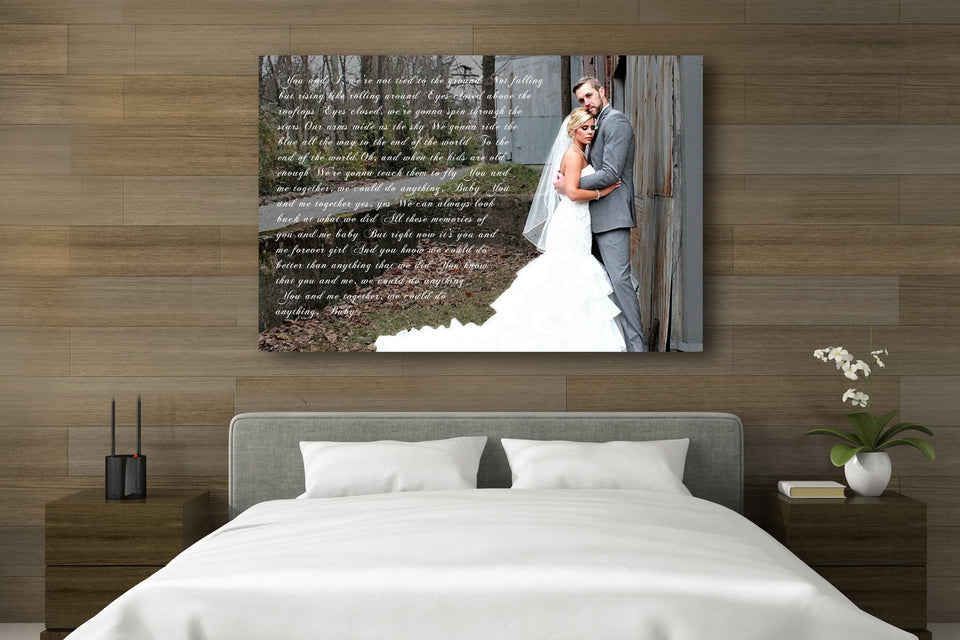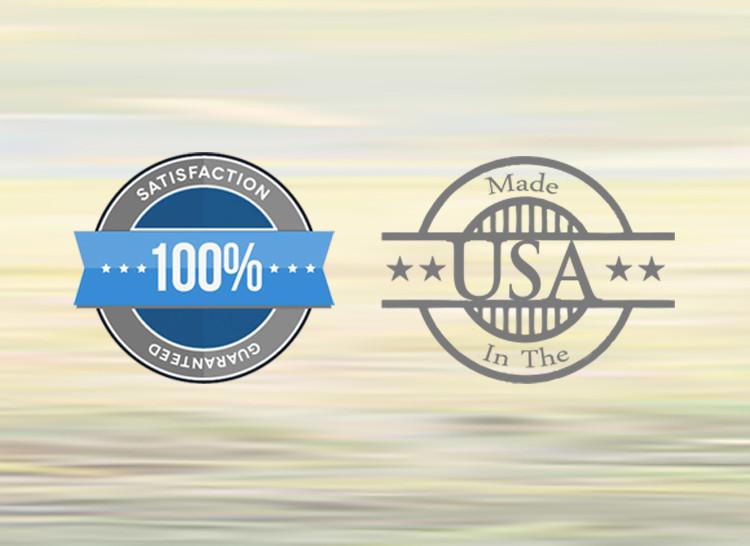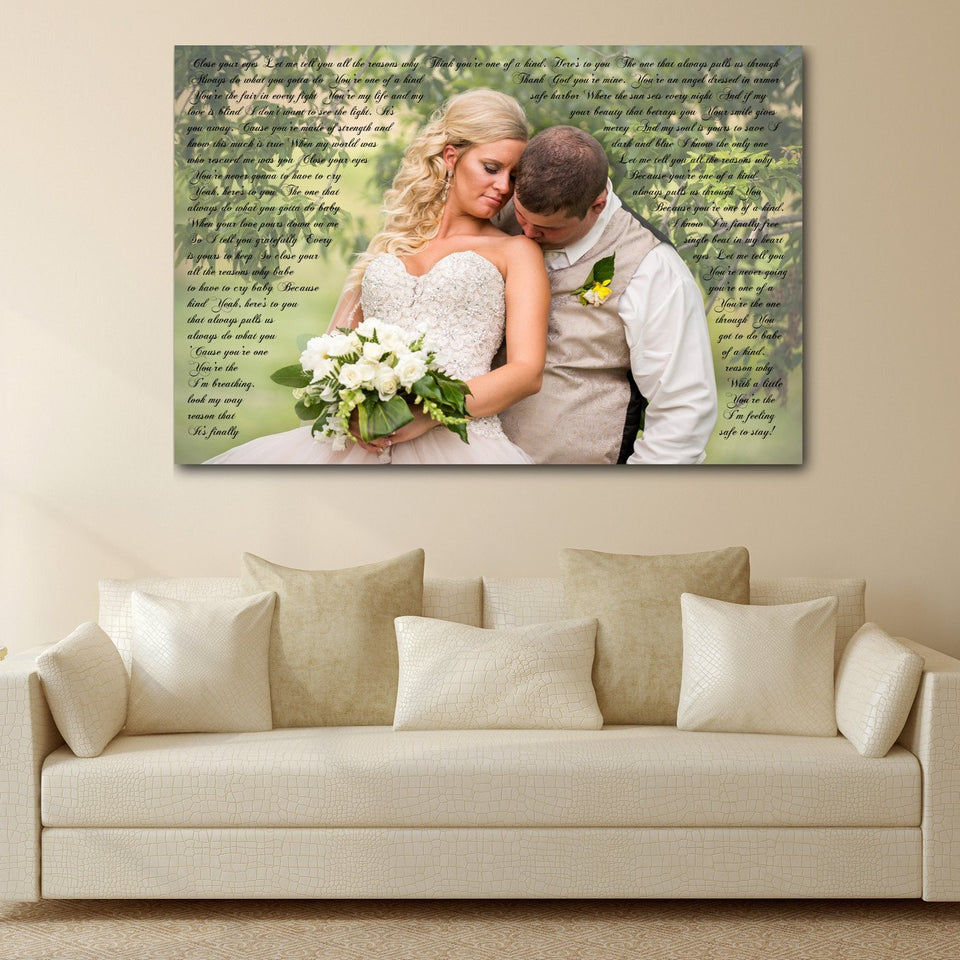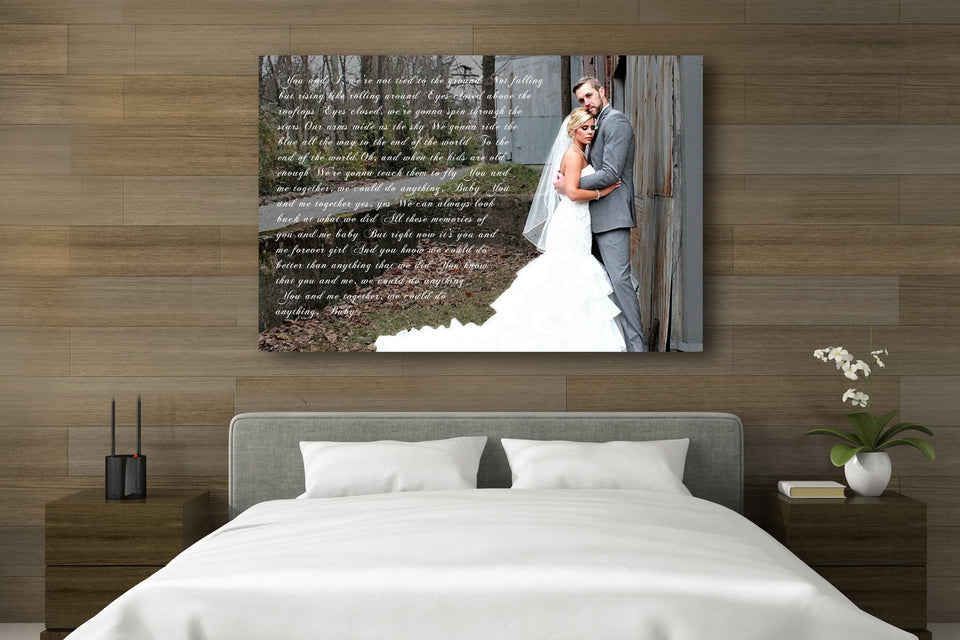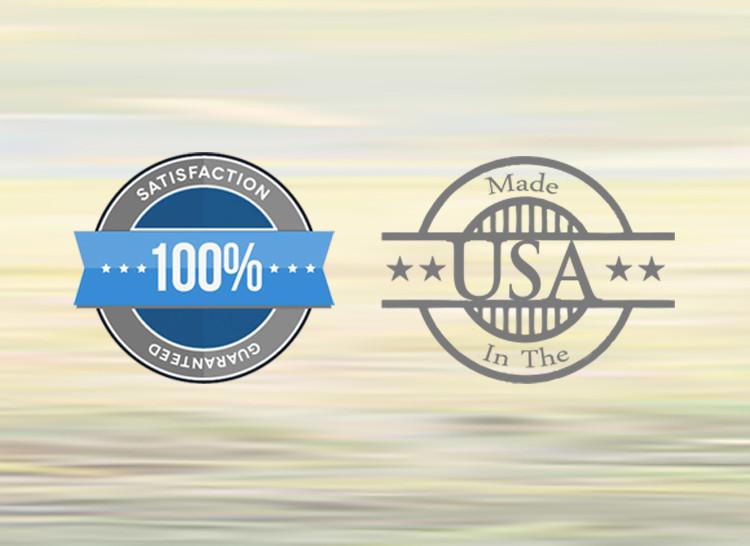 Photo Word Art Canvas - A Personalized Word Art Canvas
Details
Photo Word Art Canvas
This item is part of our Wedding Vows on Canvas Collection.
Special moments may only last a moment, but when you commemorate them with a piece of personalized word art from Canvas Vows, those memories can stay with you forever. By combining a photo and words on canvas from one of those cherished moments, Canvas Vows can create a stunning piece of wall art — ensuring that that moment stays as fresh in your mind as the day it happened. A personalized word art canvas from Canvas Vows makes a thoughtful gift as well as a beautiful addition to your home. No matter what special moment from your life that you want to remember forever, Canvas Vows can help you create something that will make that moment last.
A photo word art canvas from Canvas Vows can do more than help you remember a specific moment in your life or your loved ones' lives. By combining a photo with word art, our dedicated team can help you recall the specific emotions and feelings of that special day. A wedding photo merged with the text of your wedding vows can make a thoughtful and unique anniversary gift for your spouse or another couple in your life. Recall your child's birth with a baby photo featuring a special quote. Whatever the occasion, a personalized canvas wall art with words from Canvas Vows can transform it into the perfect gift.
Canvas Vows uses only the highest-quality materials — including water-based and solvent-free inks. Plus, all the hardware you need to mount your new personalized name word art canvas in your home is included. Just choose the size canvas you want. Then, provide us with the photo and whatever text you want included on your customized word art canvas. Canvas Vows will design customized canvases that will make the treasured moments in your life last well beyond your special day.
Instructions
Step 1: Choose your canvas size from the drop down menu. 
Step 2: Choose how many you would like to order.
Step 3: Place the order by pressing "Add To Cart"
Step 4: Check out by going to your cart
Step 5: Once the order is placed, you will receive a thank you email from Support@CanvasVows.com.  You may provide the personalization details in an email to Support@CanvasVows.com. Please also provide the name and established date you would like to use.
Processing & Shipping Time 
Please see our current processing and shipping times here.
What is included in your purchase?
1) This canvas design printed onto a canvas at the size you select.
Canvas Materials 
Only high end materials and strict quality controls are used in each and every canvas print.
Canvases are safe for the whole family as only HP Latex inks are used. These inks are water based, solvent-free and odorless. 
Ready to hang: All canvases come with the needed hardware in order to hang it anywhere in the home.
Canvas thickness: Standard .75″ wood frame (1.5″ is an available upgrade)