Creative and Personalized 1st Anniversary Gift Ideas
Posted on 14 July 2016
The first year of a marriage is something that can never be brought back. The excitement, apprehension and happiness of a new relationship make for an experience that stays with you for life. Same is the case with your first anniversary. The occasion marks a beautiful period of your life and remembers a day you won't ever forget. So when it comes to selecting a gift for your first anniversary, it isn't an easy decision to make. Yet, at the same time, you have to make the occasion special.
According to the Middle Age tradition, a specific gift item is used for specific anniversary. The traditional gift item for first anniversaries is paper so you should consider selecting personalized gift items that are themed around it. Here are some anniversary gift ideas that use paper as their basic element or theme:
One of the best ideas you could go for is a customized canvas for your wall which won't only be a memorable gift but also a beautiful addition to your home décor. You can get some lyrics or your wedding vows on canvas alongside a wedding picture of yours as a perfect reminder of the journey you have started together and the promises you intend to keep forever. This makes for an exceptionally beautiful gift for your first anniversary.
You can redesign your wedding album or wedding scrapbook in a completely different and more personalized way as your first anniversary gift. You can use craft items, assorted papers and a whole lot of different things to create a crafty book. You can write different names, quotes, songs, thoughts or memories with each picture, making the memory more lasting. Made with love and delivered by hand, this special photo album is another wonderful gift for the love of your life.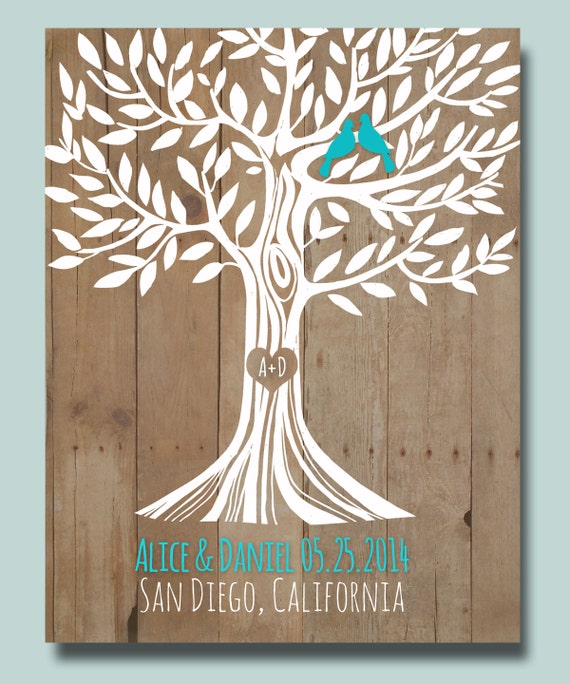 This is a popular first anniversary gift item and lovely, to say the least. You can have a tree drawn with both your names written in a heart-shape on the tree. On a plain paper in the background, or on wood as shown above! You can add a message or your wedding vows or any other message that you'd like to give to your spouse. Coupled with a beautiful frame, this is another wonderful gift idea for you.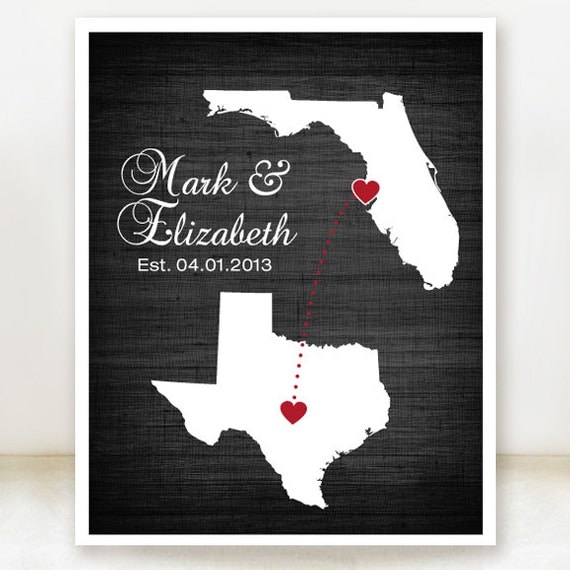 If you and your significant other are fond of traveling and exploring new places around the globe, this is a wonderful idea. Get a large world map printed out on canvas and use it to mark each new place you visit. Mark on this map the countries you have already visited together and those that you plan to visit next. Every time you both will look at this map, you'll remember how far you have to go with each other, literally and figuratively! Another idea is you can create a map of where you both are from and personalize it with your names and date you got married!
If you can think of something even more creative, you can always go for that idea. The key is to be thoughtful and creative, and think about what will please your significant other the best.